Last Updated on May 26, 2021 by Mark S. Taylor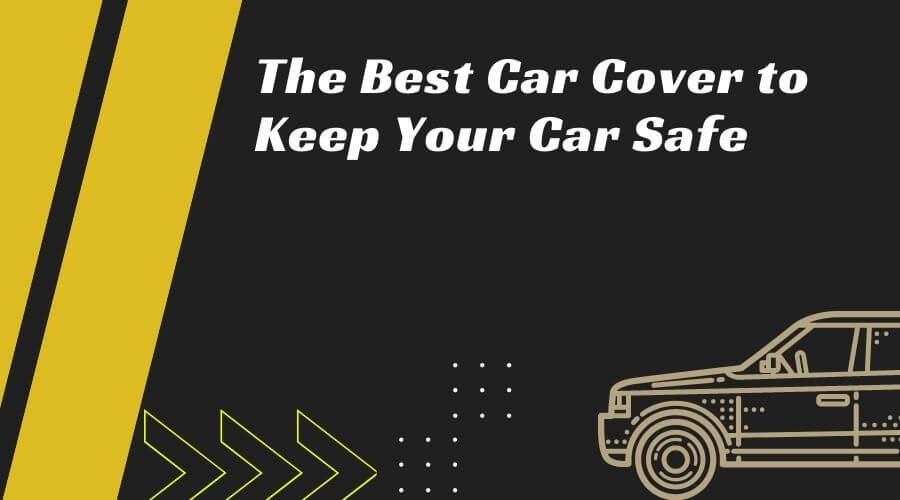 A car cover is a good investment if you have to store your car for an extended period. Windblown debris, sand, dust, twigs, and pebbles may all be protected by it. While layers of clear coat protect the paint from UV rays, the interior of your vehicle, as well as the vinyl and rubber sections, will benefit from a layer of protection.
Your vehicle's exterior and interior are both protected by a car cover. Anything from bird droppings to UV rays to rain and snow can be kept off your vehicle with an outdoor car cover. A quality COVER is available in various materials, sizes, and fabric styles to withstand a variety of possible problems and weather conditions. Here are our top choices for the best car covers.
Types of Best Car Covers
Indoor, outdoor, and all Seasons covers are the three most popular styles of covers. 
Indoor covers 
Indoor covers are the solution for short- and long-term storage of the elements unless you're going for a barn-find look. Indoor covers keep dust at bay while also providing some protection against scratches. Although the lightweight fabric covers are not waterproof or weatherproof, they can serve as a vapor and moisture barrier, preventing condensation and mold growth. 
Outdoor covers 
Protection from the elements necessitates different materials and structures that indoor covers can provide. Outdoor covers come in a variety of styles, from multi-layer weatherproof to single-layer water-resistant. Outdoor car covers face daunting challenges from the sun, rain, snow, and ice, so choose your environment for the best safety. The importance of breathability and hold-down straps cannot be overstated. 
All Seasons Covers
These top-of-the-line covers are designed to withstand the harshest weather. They will shield your car from hail, gravel, and other debris thrown around by powerful winds, in addition to rain, snow, and heat. 
Many car insurance claims are due to hail damage, particularly if you don't have space in your garage for another vehicle. 
Finding suitable all seasons covers for cars and trucks is difficult. They're pretty uncommon, and some sellers try to pass them off as all seasons car covers. Look for a cover that is either extremely durable and can tense up when installed on your car or one that inflates.
The Best Car Covers On The Market
Investing in a car cover is a great idea. After all, you'll want to maintain the best possible condition for your prized automobile. And, what's more, even the best car covers are reasonably priced. We've compiled a list of some of the best car covers to help you get started on your quest for this essential vehicle accessory.
The best Indoor covers choice is: Overdrive PolyPro with Classic Accessories
The Classic Accessories OverDrive PolyPro car cover is designed for full-size sedans with lengths varying from 175″ to 210″. It's made of lightweight fabric that won't scratch your paint, with non-scratch tie-down grommets and an elasticized hem for a personalized fit. The car cover protects your vehicle from dirt, scratches, weather, and sun damage, and the fabric is water repellent and breathable to keep mold and mildew at bay.
A storage bag and antenna patch are included with the vehicle, and customers are covered by a two-year limited warranty.
Some users have complained that the cover isn't very good at repelling rain, so keep that in mind if you intend on using it outside in an environment where rain is common.
Best Overall Pick: Autsop Car Cover
This Autsop Car Covers six layers will protect your car from dust, fog, hail, ice, snow, and even the sun. This car cover is available in up to 13 different sizes. We can attest to the excellent hail safety provided by this padded car cover. 
UV security is provided by the layers, which are also 1005 waterproof. Its extremely thick nature can withstand severe hailstorms. Whatever the weather throws at it, this car cover can handle it like a pro. 
One of the possible drawbacks of this material is that it can become very thick. It will be difficult to remove this cover from your car, particularly after a snowfall. The driver's side of this Autsop Car Cover even has a zipper. 
The zipper makes it easy to put on and remove the cover. Collisions in the dark are avoided thanks to the bright stripes on the front and side of the cover.
Best choice for heavy-duty: Budge Duro Car Cove
The Duro model is available from Budge if you require a full car cover. The Budge Duro cover comprises three layers of polypropylene material that breathes and has ultra-sonically welded seams. It's perfect for storing items in a garage or for short-term outdoor use. It's made of a soft, non-abrasive material that won't scratch the paintwork on your car. 
The Budge Duro car cover with a full elastic hem and built-in grommets ensures a perfect fit for cars up to 264″ long. It's gray, like the Budge Lite, and comes with a storage bag, antenna sticker, and a five-year warranty.
Best Outdoor Car Cover: iCarCover All Seasons 
You won't want to overlook the flexibility of the iCarCover All-Weather Outdoor Car Cover if you're looking for an outdoor car cover that can do it all. This versatile and safe cover fits a wide range of vehicles, including coupes, sedans, hatchbacks, and even some wagons, and provides front and rear coverage. 
The iCarCover cover is fully weatherproof in addition to its flexible fit. It completely encases your vehicle in safety, shielding it from things like tree sap, bird droppings, fog, snow, and more. This cover has seven layers of polyester fabric and is fully waterproof and windproof. It also has a layer that protects the car's interior and exterior from UV rays. Natural disasters and inclement weather would have no impact on your car. This car cover also comes with a guarantee of a snug fit.
Best SUV Cover: BLIIFUU Car Cover
The BLIIFUU Car Cover is ideal for all SUV owners. This car cover is ideal for all seasons. It's dustproof, windproof, and waterproof. It also protects the vehicle from scratches and UV rays. It has been meticulously built to protect your vehicle from all types of weather. 
This car cover is made of 190T polyester, a high-quality material. It'll last a long time because of this. This car cover is thicker and heavier than standard 170T car covers. It withstands wear and tears while staying soft on your vehicle's surface. You don't have to be concerned with disintegrating due to the elements or scratching the paint with sensitive fabrics. With its high temperature-resistant silver surface, this car cover is also ready for the summer, keeping your vehicle cool and protecting it from UV rays. 
This cover comes with six fluorescent light strips that serve as warnings and make your vehicle visible at night. When it's quiet, you don't have to think about cars or bikes smashing into your parked vehicle. However, some consumers have complained that the reflectors are not made of high-quality materials. Straps and elastic hems are also used to construct this cover to shield it from strong winds.
Best Truck Cover: TONBUX Truck Car Cover
Pickup trucks are protected by the TONBUX Truck Car Cover. This cover has an inverted-V shape and fits universally. It has six layers of protection to keep your car protected from the elements and looking fresh in all seasons. 
This car cover's six protective layers are made of dense and breathable materials. They are fully waterproof and dustproof when used together. UV security is provided by the aluminum film incorporated in the layers, ensuring that your paint job stays vibrant. The lightweight cotton underside of the cover that hugs your vehicle protects the paint on your car even more. 
Straps and buckles are also included in the TONBUX Truck Car Cover specification, which can be easily modified to ensure that the cover fits snugly against your vehicle. A double-stitched elastic hem runs the length of the bottom of the cover to keep it in place even further. Some customers have reported that if the zipper used to close the cover is pulled too hard, it can jam and break.
Leader Accessories Car Cover
The Leader Accessories car cover is made of a breathable material that repels moisture and keeps your car dry, making it suitable for indoor and outdoor use. It has an elastic hem around the bottoms, much like other car covers, for a snug fit, and it has a harness and buckle to keep strong winds at bay. The cover is made of an environmentally friendly biodegradable material that is uv resistant and dustproof.
Fitments are available for cars up to 264 inches in length, SUVs up to 240 inches in length, and trucks up to 249 inches in length. With this cover, you get a storage bag as well.
Best Budget Pick – ELUTO Car Cover
If you have a limited budget? In that case, please take a look at this low-cost option on our list. This car cover is designed for sedans and is available in a variety of sizes. When you start using this car cover, mold and mildew will be fully gone.
It keeps the car dry and lets it keep its original color and sheen. One of the product's advantages is that it is fully windproof and dustproof. You can also use it while your car is parked in the garage for an extended period.
This cover, like many others, has fluorescent stripes. The fabric is made of high-density polyester and will last for years. The dimensions vary from 173″ to 210″ in length.
Platinum Guard Car Cover by Leader Accessories
Look at this product if you want a soft cover for your car that also provides excellent security. With seven layers of security, this cover will not allow your car to deteriorate in any season. Nothing but the best is guaranteed with this Leader Accessories car cover. 
There are four layers of unique polypropylene content, a dense layer of cotton, and two heavy-duty UV layers among the seven layers. This layering ensures that the car cover remains stable under all weather conditions. 
Since it is windproof, this car cover is also useful in the event of a severe storm. Furthermore, it is a cost-effective way to cover your four-wheelers. It also has one of the tightest hems among the car covers we looked at. 
The links and elastic hems should have been a little more durable. Aside from that, this car cover provides excellent all-around security for your prized possessions.
TONBUX Truck Car Cover
This car cover is ideal for car trucks and pickup trucks, as the name implies. It's 20.5 feet long, 6.6 feet wide, and 5.7 feet tall. The TONBUX Truck Car Cover features an inverted-V shape and fits a variety of vehicles. 
And after a harsh winter season, the six safety layers ensure that your car looks brand new. The dense and breathable material will provide complete protection for your four-wheelers. 
The Truck Car Cover is both dust- and water-resistant. There is an aluminum film for UV defense within its layers. This UV safety keeps the car's paint looking fresh and new. The cotton material on the underside does not scratch your car and embraces it tightly. 
The zipper on this car cover will jam between uses, which is one of its flaws.