Last Updated on January 2, 2018 by Mark S. Taylor
Listening to music while driving the car is one of the most excited and wonderful experience for many people. It is really a routine activity for people who are taking their cars for workplaces or even for weekend drives. The best single din head unit has improved with lots of technical advancements at present days which helps people to connect their handset with it and even make hands free calls. Let us get deep into the single din units and check out the latest trends and find which one is the best.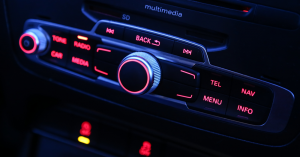 What is din stereo?
The din stereos were made with German standards and the name which was given to it was DeutschesInstitut fur Normung from where the DIN came from. They have standards whereas the length is two inches tall for single stereo and 4 inches tall for double stereo. In a similar manner, there are certain things to figure out whether your stereo is DIN or not. The DIN stereo are standardized and even replacing with single new cannot be difficult in the dashboard. At present days, the single din touch screen car stereo has emerged and even people can check for calls and other information just from the stereo.
Not Just For Sound Quality
The best single din car stereo is not completely for hearing songs at present days they are used for most of the purposes and with enhanced features like
Answering calls
Reading text messages
Streaming free music
Alternative FM channels
Wireless connectivity
USB charging
Digital display
Voice control automation
Touch screen features
These are some of the advancements which are installed with some of the upcoming single din car stereos. People who are into getting the din can surely go on with it because they have a particular fame and standard in the market.
Pioneer AVH-X7800BT 7″ Single Din Radio
This is one of the most trending Din radio with a rating of 4.9 out of 5. People really love it for various features which are making it as the best single din head unit among the others. The pioneer has got a 7-inch long display screen with the proper touchscreen with impressive sensors. The features of the din stereo are
Built-in DVD receiver
Connects 2 smartphones simultaneously
Siri eyes
Compatible with AppRadio
CD
USB
AUX
200-watt amplifier
Remote control with 4 channels
These are some of the features of pioneer head unit. Even it has got an external wired microphone which helps people to attend the calls in a hands-free way. The FM which is getting accessed with the Din is superior quality and helps people to hear all sorts of channels without distortion. They have got both front and rear RCA audio outputs which are connected to a subwoofer to provide high-quality sound. This single din touch screen car stereo with Bluetooth is one of the outstanding connection for 2 smartphones at the same time. The price of the single din stereo with such advanced features are not too high and they are available at cost-effective prices for people to buy without any issues.
KENWOOD EXCELON KDC-X701
The 13 band equalizer which comes with some of the special outputs about 22watts and 4 channels is really giving out a good output for people. Even this stereo can be connected with Bluetooth for playing your favorite songs while driving. It is compatible with Pandora internet and iHeart radio with so many built-in controls which are needed by people. The Kenwood is compatible with Android software too. The features are
13 band equalizer
3 sets of 5 volt RCA outputs
Bluetooth connectivity
USB connectivity
User-friendly interface
These are some of the benefits of using the Kenwood single din Bluetooth car stereo which is selling hot at present days.
The Pyle comes with a satellite navigation which can help people to find the path on the lost tracks and even safeguard people from losing the path. The single din touch screen radio of Pyle has got lots of features such as
Bluetooth connectivity
CD
AUX
USB
DVD
Imported contacts
4 x 80-watt power output
These are some of the features which are coming up with extraordinary facilities for people at affordable prices. The screen is 7 inches and the functioning quality is really good in it.
People who are addicted to hearing songs while traveling can make use of single din touch screen which has emerged with LCD and LED lights. The digital technology has really made our lives so simple with the help of such kinds of advancements. Every single call or musical album can be done without using your hands in the stereo. The stereo really helps people to stream all of the people's favorite songs and have complete fun while traveling.
Read More : What Is The Best Double Din Car Stereo?